Do you have a small hand sprayer that can be used in the kitchen?
We supply two types of hand sprayers for use in the kitchen dependent on your required use.
The MESTO Safety Plus Hand Sprayer

Designed to be used with food so in such areas as restaurants, catering, kitchen gardens and other areas within the food industry.
It is suitable for spraying water-based liquid foods, water, saline solutions, acetic acid solutions, low-concentration alcoholic solutions, viscous oils and other oily solutions permitted for food contact.
MESTO Safety Plus Food Spray
1.5L Max fill capacity

30

ºC maximum content temperature.




Transparent filling scale




Adjustable Nozzle




Lockable stop-valve for continuous spray or no spray.



The IK Food Sprayer

Specifically manufactured with materials designed to be fully compatible for contact with all types of food, even at high temperature such as oils. Food certification pursuant to prevailing laws and regulations CE.
It
is suitable for use in hospitality, confectionery, bakery and food processing. It is appropriate for spraying all forms of liquid used within the kitchen or even in situ such as at exterior events and for barbeques. Ideal for basting.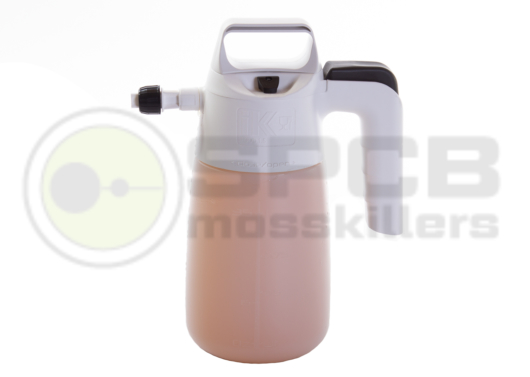 IK Food Sprayer 1.5L
1.5L Max fill capacity

60ºC maximum content temperature

Ergonomic design

Large filling aperture

Strong translucent tank with level indicator
Two nozzles included with the ability to fit other nozzles.

Related Articles

Can I attach one of your sprayers to an air compressor?

You can attach air compressors to most of our MESTO range of plastic and metal sprayers For our plastic sprayers you can attach an air compressor to: Cleaner range Profi range Profi Plus range Foaming range Stabilus sprayer Flori sprayer Flori ...

Do sprayers come with a lance?

We do supply a short lance with our sprayers however most people opt for a longer telescopic lance too, for those hard to reach places. We have a 5.4m Lance available here: Sprayer Extension Long Lance - 5.4 metres (mosskillers.co.uk) We have a 3.2m ...

I need a spare part for my spraying equipment. Do you sell spares?

When you purchase a sprayer from SPCB UK Ltd, then you can be assured of your investment as we also supply spare parts for all of our spraying equipment if anything goes wrong in the future. We offer spare parts for our MATABI, OSATU, IK and MESTO ...

Can moss and algae killer be used before painting the surface?

If you wish to remove moss and algae on surfaces such as walls before coating, then you can apply Baticlean CR. It is a systemic surface biocide and will not affect the paint. Dilute Baticlean CR in water as per the label instructions, spray on the ...

Do you offer free delivery on orders?

We don't offer free delivery or codes that can be used. The cost of shipping is relative to what we have to pay our courier, and in most cases is actually lower to be more affordable for you as a customer. Since these are chemicals and large ...